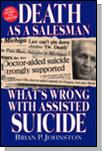 DEATH AS A SALESMAN: What's Wrong with Assisted Suicide
There are books already available regarding assisted suicide. Unfortunately, many of them romanticize the practice. A few do bring assisted suicide into question, and these are, by and large, very good books.
This book's purpose is to provide straightforward answers to the question, "What's wrong with assisted suicide?" I can assure you that there are many, many answers to that simple question. Unfortunately, those answers are often offered in medical, legal, or technical terms.
It is my hope that the answers in this book are not complicated or technical. What I have done here is attempt to examine this issue and the emotional issues surrounding it, in a way that the average person would. You see it is regular people who are being talked into ending their lives. It is normal people who are being asked to discard nearly three thousand years of medical and social ethics; to change the laws that currently protect the ill, the infirm, the depressed and the disabled. And it is everyday, sensible people who will make a difference in stopping a very aggressive euthanasia movement. They are the ones who, when confronted with decisions, need practical answers to deal with the traumas of life and death.
I hope you find this book useful. In contemplating assisted suicide, society is considering a dramatic departure from the values that teach us to respect and protect the vulnerable and the innocent. But remember that society isn't government officials; society is really just normal people like you and me. As you evaluate assisted suicide, consider carefully, for lives are at stake. Ultimately, the life you save may even be your own.